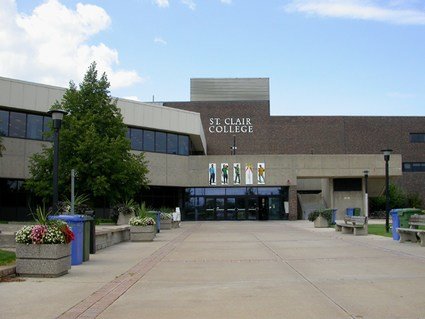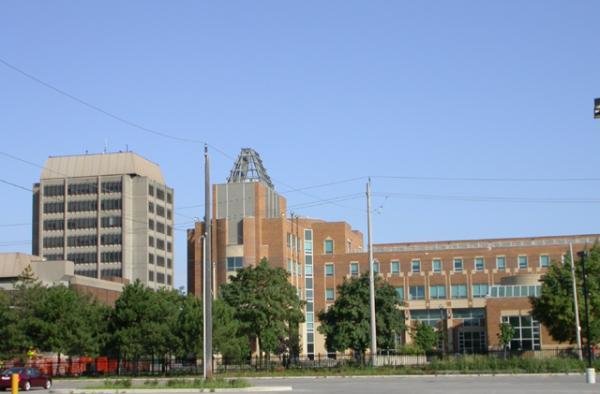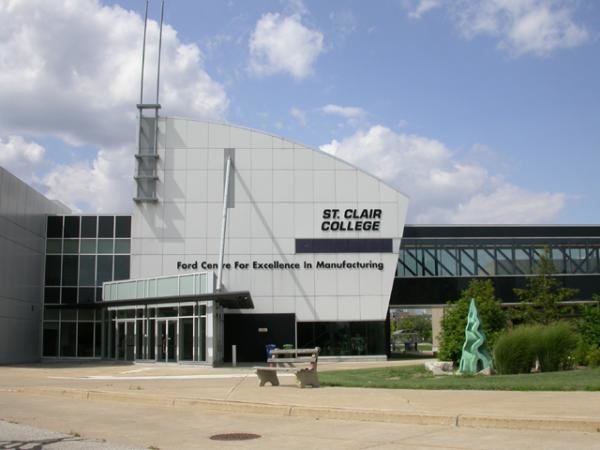 Post-Secondary
The University of Windsor is Canada's southernmost university. It is a research oriented, comprehensive university with a student population of 16,000 full-time graduate and undergraduate students. Now entering its most ambitious capital expansion since its founding in 1963, the University of Windsor recently opened the Anthony P. Toldo Health Education & Learning Centre, which houses the Schulich School of Medicine & Dentistry. With the help of $40 million in Ontario government funding, the University also has recently finished construction of a 300,000-square-foot (28,000 m2), $112-million Centre for Engineering Innovation; a structure that establishes revolutionary design standards across Canada and beyond. The university is just east of the Ambassador Bridge, south of the Detroit River.
In Spring 2011, it was announced the University of Windsor would move its music and visual art programs downtown to be housed in the historic Armouries building and former Greyhound Bus Depot at Freedom Way and University Ave E. The move intended to bring an additional 500 students into the downtown core daily. The University is also brought its School of Social Work to the old Windsor Star buildings on Ferry and Pitt Streets, bringing an additional 1000 students into the downtown.
Windsor is also home to St. Clair College with a student population of 6500 full-time students. Its main campus is in Windsor, and it also has campuses in Chatham and Wallaceburg. In 2007, St. Clair College opened a satellite campus in downtown Windsor in the former Cleary International Centre. In April 2010, St. Clair College added to its downtown Windsor presence with the addition of its MediaPlex school. Together, they bring over one thousand students into the downtown core every day. The college also opened the TD Student Centre on the corner of Victoria Avenue and University Avenue in 2012.
More recently Collège Boréal opened an access centre and small campus to their Ouellette avenue location. This small campus offers access to many Collège Boréal programmes as well as immigration and integration assistance for francophones in the area. Collège Boréal is Windsor's only francophone post-secondary institution, providing service for a small, but notable, population of Franco-Ontarians within the Windsor-Tecumseh-Belle River area.
Elementary and Secondary
Residents attend schools in the Greater Essex County District School Board, the Windsor-Essex Catholic District School Board, Catholic French School Board and Public French School Board.
Windsor's elementary schools excel in the rankings of the entire Ontario report system. Windsor's Bellewood public school, the French-immersion school, is among 25 elementary schools sharing the No.1 spot in Ontario, according to a report card released in February 2008 by The Fraser Institute. Bellewood got a perfect score -- 10 out of 10 -- on the overall rating. John Campbell Elementary School is famous for its unique programs for gifted children.
Hon. Vincent Massey Secondary School, is renowned in Canada and North America for notable accomplishments in mathematics.
The Greater Essex County District School Board is one of several school boards in the province to launch the Specialist High Skills Major. The focus of the program is in the manufacturing sector with courses offered at General Amherst, Herman and Sandwich Secondary schools. Another specialized program is the Walkerville Centre for Creative Arts (WCCA), a program for visual and performing arts students in the Windsor-Essex Region operating from Walkerville Collegiate.
There are independent faith-based schools including Maranatha Christian Academy (JK-12),First Lutheran Christian Academy (preschool-8), and Academie Ste. Cecile International School (JK-12, including International Baccalaureate), An-Noor Islamic School and Windsor Adventist Elementary School.
Call one of our representatives for a first-hand experience of the local schools. Or fill out this form to send us a message right now. It's free and without obligation. we'll get back to you immediately with a phone call, a free report, or a brochure from a local school...
---