Windsor & Essex County is Canada's southernmost county. Sitting at the same latitude as northern California, it has become one of the most agriculturally productive counties in the country. It offers recreational, cultural and professional options that are numerous and inviting. Essex County's many historic and scenic attractions, its many miles of shoreline and beaches, and its sunny climate make it an attractive place to visit or live. From fishing villages and farming communities, to a metropolitan area hailed as one of Canada's leading technology and manufacturing centres, the Windsor-Essex Region has it all. Originating in 1750 as a small French settlement along the Detroit River, this is a typical southern Ontario region.
Windsor offers cultural and historical sites, lush gardens and natural areas, gaming, international restaurants, events and festivals. Being the southernmost area in Canada, it has mild temperatures and warmer seasons. It has a top-notch university, and many excellent employment opportunities. Windsor has so much to offer!
Location
The Essex County Region is situated on a peninsula of land that juts out into the mid-west United States. It is Canada's southernmost county, covering the area at the tip of Southwestern Ontario. The Region occupies the extreme southwestern tip of Ontario, and is in fact a peninsula, surrounded by water on three sides and where the United States lies to the north (Michigan), south (Ohio) and west (Michigan).
Windsor is the southernmost city in Canada. It lies at the western end of the Quebec City-Windsor Corridor. Windsor is across the Detroit River and Lake St. Clair from Detroit, Michigan. It is one of the busiest ports of entry into Canada and is connected to Detroit by the Ambassador Bridge, the Detroit-Windsor Tunnel, and a Canadian Pacific Railway tunnel.
Windsor is located just minutes from Detroit, 2 hours from London, and 4 hours from Toronto. It is surrounded by Lakes Erie and St. Clair and the Detroit River. The Macdonald-Cartier Freeway (Highway 401) ends in Windsor, and serves to connect it with Toronto, Ontario, and Montreal, Quebec.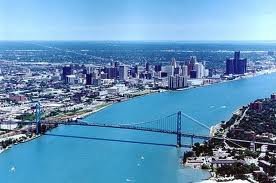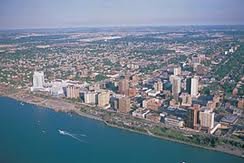 One of the most obvious advantages of the Windsor-Essex Region is our location, at the heart of the richest consumer market in the world, where more than half of the North American population lives within an 8-hour drive.It is located 1.6 kms from Detroit, Michigan; 95 kms from Toledo, Ohio; 300 kms from Cleveland, Ohio; 30 kms from Toronto, Ontario; 460 kms from Chicago, IL. It is 420 kms from B; uffalo-Niagara Falls; 850 kms from Washington DC; 810 kms from Ottawa; 990 kms from New York; 885 kms from Montreal; 940 kms from Philadelphia, PA.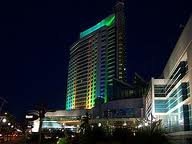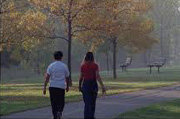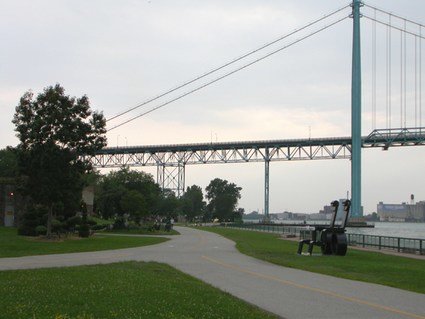 Terrain
The Windsor-Essex Region is made up of the nine municipalities, encompassing a total area of 1,851 square kilometres. The eight municipalities include the city of Windsor, Lasalle, Tecumseh, Lakeshore, Amherstburg, Kingsville, Essex and Pelee Island.
Windsor is surrounded by three major bodies of water; Lake St. Clair, Lake Erie and the Detroit River.
The Essex County terrain includes numerous eco-structures including marshes, ponds, lagoons, beaches, shorelines, prairie, savanna, and oak woodland habitats that attract an abundance of wildlife.
Population
In the 2006 Canadian census, the city had a population of 218,473 and its official metropolitan area (consisting of Windsor, Tecumseh, Amherstburg, LaSalle and Lakeshore) had a population of 323,342. In March 2007, Statistics Canada released the latest census information and metropolitan Windsor's population had grown 7.3% since 2001.
Windsor attracts many immigrants from around the world. Over 20% of its residents as foreign-born - the fourth-highest proportion for a Canadian city.
The population density of metro Windsor is 1728 people per square kilometre compared with an average of 12.6 for Ontario.
Economy
Windsor's economy is primarily based on manufacturing, tourism, education and government services.
Windsor is one of Canada's major automobile manufacturing centres and is often referred to as the Automotive Capital of Canada. The city is home to the headquarters of Chrysler Canada. Automotive industries include the Chrysler mini-van assembly plant, a Ford Motor Company engine plant, a General Motors transmission plant, along with a number of smaller tool and die and automotive parts manufacturers.
Windsor is the headquarters of Hiram Walker & Sons Limited,the makers of Canadian Club whisky, which is now owned by Pernod Ricard. Its historic distillery was founded by Hiram Walker in 1858 in what was then Walkerville, Ontario.
There is also a significant local pharmaceutical industry with companies such as Accucaps, Pharmaphil, Jamieson Laboratories and Gelcell.
Windsor has a well-established local tourism industry. Caesars Windsor (formerly Casino Windsor) ranks as one of the largest local employers and has been a major draw for U.S. visitors since it's opening in 1996. The city also boasts an extensive riverfront parks system and fine restaurants such as on Erie Street in Windsor¡¯s Little Italy which are also destination for many Americans. Additionally, the Lake Erie North Shore Wine Region in Essex County is bringing further tourism and employment growth to the region.
Both the University of Windsor and St. Clair College are significant local employers and have enjoyed substantial growth and expansion in recent years. The recent addition of a full-program medical school which will open in September, 2008 at the University of Windsor is expected to further enhance both the region¡¯s economy and the status of the university.
Other notable employers are Sutherland Global Services and Green Shield Canada which are all reflective of the Windsor region's diversifying economy.
Housing
The Windsor-Essex Region has some of the most stable and affordable housing of any region its size in Ontario and in Canada. It offers excellent real estate values and prime locations. Based on the statistics of existing homes and properties sold through the Multiple Listing System ® compiled by CREA (The Canadian Real Estate Association), national average home sale price is $352,581 in September 2011. Average home prices are estimated to be $175,875 in Windsor-Essex Region, which is approx. 50% less of the national average home sale price.
Comparing average sale price of Canadian major cities, you can not overlook the move to Windsor-Essex Region:
| | |
| --- | --- |
| Windsor | $175,875 |
| Toronto | $596,520 |
| Ottawa | $342,347 |
| Vancouver | $831,555 |
| Victoria | $527,181 |
| Montreal | $318,355 |
| Calgary | $416,055 |
| Edmonton | $331,537 |
| Saskatoon | $317,932 |
| Regina | $296,838 |
| Winnipeg | $248,548 |
---